Search Results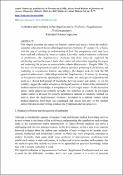 Author(s) and reader(s) in the Supplementary Problems (Supplementa Problematorum)
, Οικονομοπούλου, Κατερίνα, Oikonomopoulou, Katerina
This chapter examines the interaction between authors and readers within the medical-naturalist collection of the so-called Supplementary Problems (2nd century CE, or later), with the aim of reaching an understanding of how this compilatory work may have been read and evaluated by imperial readers
Peripatetic Knowledge in Plutarch's Table Talk
, Οικονομοπούλου, Κατερίνα, Klotz, Frieda, Oikonomopoulou, Katerina, Oikonomopoulou, Katerina
The chapter discusses the role of Aristotle and his Peripatetic successors as sources of philosophical and scientific knowledge within Plutarch's 'Table Talk' (1st-2nd c. CE), with a particular focus on the oral strategies of sharing and transmission of Peripatetic learning within the work.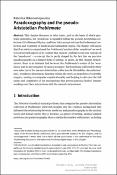 Paradoxography and the pseudo-Aristotelian Problemata
, Οικονομοπούλου, Κατερίνα, Oikonomopoulou, Katerina
This chapter discusses in what terms, and on the basis of which epistemic principles, the 'wondrous' is signalled within the pseudo-Aristotelian collection of Problemata Physica, and how this concept informs the Problemata's selection and treatment of medical and naturalistic topics.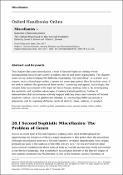 , Οικονομοπούλου, Κατερίνα, Richter, Daniel S., Johnson, William A., Oikonomopoulou, Katerina
This chapter discusses miscellanies, a type of Second Sophistic writing whose distinguishing features are variety of subject matter and loose organization. It demonstrates that miscellanies actively engage with key ideals and concerns of Second Sophistic culture, such as paideia and identity, by constructing differing models of polymathy, and by exploring different facets of identity (class, cultural, or gender).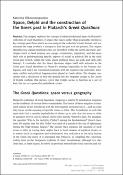 Space, Delphi and the construction of the Greek past in Plutarch's "Greek Questions"
, Οικονομοπούλου, Κατερίνα, Georgiadou, Aristoula, Oikonomopoulou, Katerina, Oikonomopoulou, Katerina
Το κεφάλαιο εξετάζει την παρουσίαση και λειτουργία του χώρου μέσα στη συλλογή 'Αιτια Ελληνικά' του Πλουτάρχου. Διερευνἀ ιδιαίτερα την έννοια του 'σχεσιακού χώρου' ως εργαλείου ερμηνείας της ευρυτερης θεματικής του έργου, καθώς και του τρόπου με τον οποίο επιχειρεί να συνδέσει το παρελθόν με το παρόν.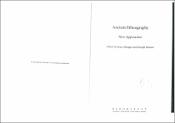 Ethnography and authorial voice in Athenaeus' "Deipnosophistae"
, Οικονομοπούλου, Κατερίνα, Almagor, Eran, Skinner, Joseph, Oikonomopoulou, Katerina
The chapter examines the place and presentation of ethnographic information in Athenaeus' miscellanistic work 'Deipnosophistae'.