Search Results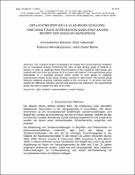 Der Lichtbegriff bei 13-14-jährigen Schülern : eine didaktische Intervention angelehnt an dem Begriff der sozialen Markierung
, Ravanis, Konstantinos, Daoutsali, Eleni, Nikolakopoulou, Katerina, Barke, Hans-Dieter, Ραβάνης, Κωνσταντίνος
This research project investigates the impact that social-teaching mediation has in conceptual change concerning the idea of light among grade 8 students in Greece. In order to challenge these misconceptions in this regard an intervention was realized with one of the two groups of 13-14 years old children. The experimental group participated in a teaching process which aimed to lead pupils to cognitive reconstruction based at the social marking concept of "light travel"; the control group followed traditional teaching methods based to the curriculum. In all tasks that were studied the difference between pre-test and post-test was significant: the experimental group was able to explain the light as an entity.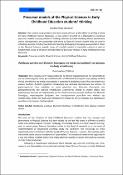 Precursor models of the physical sciences in early childhood education students' thinking
, Ravanis, Konstantinos, Ραβάνης, Κωνσταντίνος
The current study presents the basic characteristics of the effort to develop a trend for Early Childhood Science Education, in the context of which it is attempted to construct precursor models in young children's thinking, schemes of understanding natural phenomena whose characteristics are compatible with those of Natural Sciences models that are used in schooling. General trends of research and teaching strategies for bringing young children closer to the Physical Sciences, specific issues of scientific models in education context as well as fundamental issues of structure and operation of precursor models in early childhood are also discussed.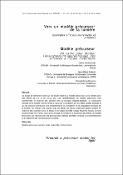 Vers un modèle précurseur de la lumière. Exemples à l'école maternelle et primaire.
, Arnantonaki, Danai, Boilevin, Jean-Marie, Ravanis, Konstantinos, Αρναντωνάκη, Δανάη, Ραβάνης, Κωνσταντίνος
Ce travail de recherche porte sur une étude relative au modèle précurseur sur la lumière pour des élèves de 5-6 et de 10-11 ans. Les caractéristiques du modèle précurseur sont transformées en objectifs des activités avec le concept d'objectif-obstacle : la construction mentale de la lumière comme entité à cause de la centration sur les effets visibles produits et /ou les sources lumineuses et la compréhension de conception de la propagation rectiligne de la lumière. En menant une séance avec 85 élèves de l'école maternelle (grand section) en Grèce et deux séances avec 17 élèves d'une classe de CM2 (Classe Moyenne Niveau 2) d'une école primaire en France, nous avons essayé de construire à la pensée des élèves un modèle précurseur.Les résultats pour les deux groupes d'élèves semblent conduire à la compréhension et à l'approche des connaissances scolaires.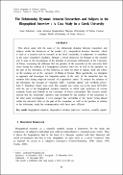 The relationship dynamic between researchers and subjects in the biographical interview: a case study in a Greek University
, Solomou, Anna, Asimaki, Anna, Tsiolis, Giorgos, Ravanis, Konstantinos, Σολωμού, Άννα, Ασημάκη, Άννα, Τσιώλης, Γεώργιος, Ραβάνης, Κωνσταντίνος
This article deals with the issue of the relationship dynamic between researchers and subjects within the framework of the conduct of a biographical narrative interview, which is used as a research tool in research in the field. Essentially, it endeavours to contribute to the social researcher's feedback, through a critical dimension for thought on the research self. It aims at the investigation of the attitudes of professors (informants) at the University of Patras, concerning the influence that the position of the researcher in the university field exerts during the conduct of a biographical narrative interview, as well as the appraisal, on the part of the informants, of this influence, in order for them to narrate, think and reflect on the teaching act, at the University of Patras in Greece. More specifically, we attempted to approach and investigate the important matter of the entry of the researcher into the research field during empirical research of a qualitative nature. To analyse the attitudes of the informants, the concepts of "scientific field", "scientific capital" and "symbolic power" from P. Bourdieu's theory were used. The research was carried out in the years 2013-2014 with the use of the biographical narrative interview in which eight professors of various academic levels and Schools at the University of Patras participated. The research results showed that the informants' narrative was facilitated by the position of the researcher in the field under investigation. It even emerged that knowledge of the "game" being played within the university field on the part of the researcher, as well as her position in relation to the informants, made her communication with them more efficient.
Représentations et obstacles des enfants de 10 à 11 ans sur la fusion et la solidification du sel : perspectives didactiques
, Ravanis, Konstantinos, Ραβάνης, Κωνσταντίνος
Les enfants construisent de représentations des concepts et des phénomènes physiques et ces représentations jouent un rôle décisif dans l'enseignement. Pour le physicien, le changement d'état est une transformation de la matière due au transfert d'énergie sous forme de chaleur. Dans plusieurs recherches centrées sur les représentations des enfants on trouve que ces représentations sont souvent incompatibles avec le modèle scientifique. Dans cette recherche, où l'on a étudié les représentations sur la fusion et la congélation du sel, ont participé 89 enfants de 10 à 11 ans. Les résultats des entretiens individuels montrent que ces enfants utilisent différentes catégories de représentations, dominées pour la majorité par la nature de la substance que nous étudions.
Mental representations of students of the fifth grade on the concept of light propagation time
, Ravanis, Konstantinos, Ραβάνης, Κωνσταντίνος
This article presents the results of a research of fifth-degree students' mental representations to understand the light propagation time. The survey was carried out with a sample of 132 pupils of about 10 years and showed that children of this age have difficulty in questioning the qualitative nature of recognizing this property of light.